8 Simple Signs of Online Dating Scammers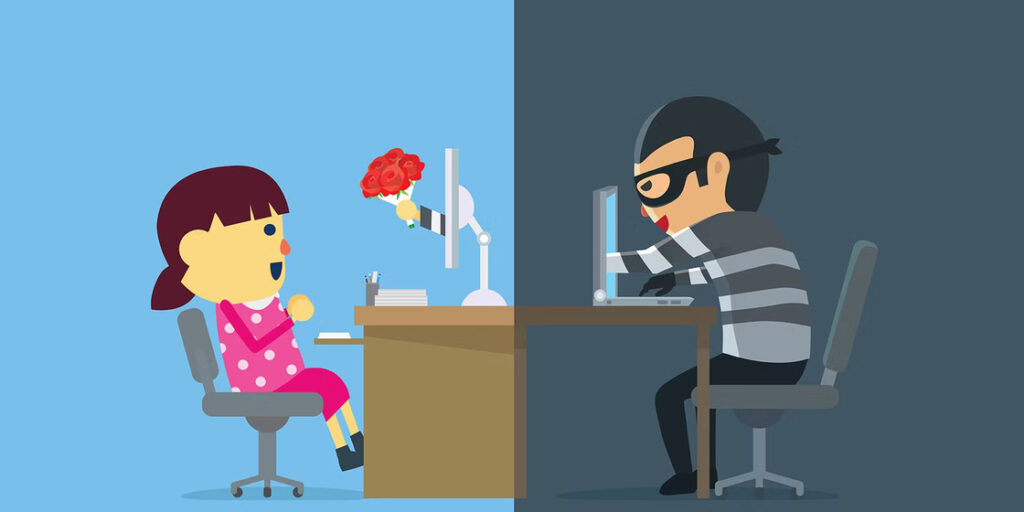 Unfortunately, as it is, online dating scammers are a common occurrence. The great majority of profiles are genuine individuals searching for love, and the best dating sites have protocols in place to detect and remove phony accounts prior to seeing them. Nevertheless, scammers are getting increasingly sophisticated, so it's important to stay educated on the latest scam dating tactics. Here are 8 steps to help you in your effort to avoid being a victim of online dating scams: be aware of fake profiles, pay attention to scammer behaviour, and stay up to date on the latest tricks and how to spot scammers on online dating.
Who Does Dating Site Scams Target?
No matter how tech-savvy you may be, scammers are always looking for potential victims. Everyone is at risk of being taken in by flattery or attention, and this is something that we are all susceptible to. In particular, older people who lack experience with online scams are more vulnerable to becoming victims of dating site scams. Additionally, those with money or those who trust too easily may also come under the radar of scammers. Therefore, it is important to remain alert and aware of potential warning signs.
How to Spot a Dating Scammer?
To avoid online dating scammers, familiarize yourself with the 8 key steps for identifying any suspicious activity. Some red flags can be spotted with just one of these steps, while others might be revealed through multiple. Additionally, be wary of entire dating websites with poor reviews or expensive subscription fees. Utilize the trusted, high-quality services provided by our Reviews.Dating team to guarantee a safe and enjoyable experience. The best option would be to use trusted services, here you'll find a list of honest dating site reviews.
Tips on How to Spot Online Dating Scammers
1. Profile Warning Signs
By recognizing the indications of a possible scammer, you can usually protect yourself from becoming a victim of an online dating scam. By being aware of the signs, you can avoid situations where you are talking to a person that you are uncertain about. The most obvious sign to look out for is a profile that appears too good to be true – with pictures taken by a professional photographer in beautiful settings. This is typically a scam to lure you in. Additionally, someone who claims to have extreme wealth should also be avoided. Other warning signs include incomplete or inconsistent profiles.
2. Your Match Expresses Strong Feelings of Love Early On
Though the idea of 'love at first sight' is a popular romantic notion, it is not a reality. If someone professes to have developed strong feelings for you quickly after meeting you through an online dating service, it is cause for suspicion. This is a common tactic used by scammers. It can be flattering to be admired so intensely and quickly, but it's important to remember to remain cautious and question the intention of someone who declares love immediately. If you're looking for a 1-night stand, here is a list of the best hookup dating sites.
3. They try to Take the Conversation Elsewhere
Do you want to go over their relationship history, but they keep changing the topic? This is a common trait of online dating scammers. It's possible they're trying to deceive you (e.g. by asking for money) or they can't keep up their phony persona. Faux users can have difficulty responding to personal questions and will switch the conversation to more comfortable topics. This is another warning sign that someone may be an online dating scammer.
4. Dating Scammers Avoids Being Met
A good way to identify a potential dating scam is if they continuously dodge meeting up with you. Generally, those who are genuinely interested in either a romantic or friendly relationship will be willing to meet in person eventually. After all, that is the main purpose of a dating website. They may make excuses such as not being able to afford it, or simply being too timid. They can also give different excuses every time you ask them or say they've been hurt in the past. It is understandable if someone is a bit apprehensive concerning a meet-up, but this should not be confused with someone who constantly avoids it. Here is a list of the most reliable dating sites for serious relationships.
5. Dating Scammers Avoid Video Chat Completely
The timidest of online daters can comprehend how helpful a video chat is to learning more about someone. Nevertheless, anybody who never opts for video chat is likely to be a phony. It is likely that the profile picture does not resemble them in any way, and they are not searching for a relationship or a meeting. If they give strange, obscure, or peculiar explanations for avoiding a video chat, they are likely to be an online dating fraudsters.
6. Requesting Assistance with their Financial Dealings
Be wary if someone on a dating site requests that you help them with any financial transactions. This should be considered a major warning sign. They might try to get you to move money to a different account or ask you to pay money somewhere and then promise to reimburse you. They may even ask you to purchase a subscription to another site as a 'gift'. Whatever the request, it's best to decline it. If you are ever asked for any type of financial assistance on a dating site, it's best to block and report the user immediately.
7. Dating Scammers Asking for Financial Support from You
Be aware of anyone that requests money when using dating sites. Many scammers will try to convince users that funds are needed for travelling to meet in person, or for buying clothes for the date. Others may fabricate a story about needing money for an urgent family matter. Nearly all of these cases are fraudulent and should be treated as such. In the highly unlikely event that someone is genuine and requires money for a meeting, ask yourself if this is someone you truly want to get to know.
8. They provide You with a Link to an Additional Site
Scammers may advise one to sign up for an additional dating site or provide them with a link to a commercial website. This could be an indirect way for them to ask for money. They could either be the owner of the other site or be serving on behalf of somebody else. The alternative website might be linked to the dating site, or it could be a related page. It could even be an escort website. In any case, one should never make a purchase or subscribe when someone unfamiliar has urged them to do so.
Trick a Romance Scammer by Being Smart
Recognizing a potential fraudster online is not enough, you need to be able to outwit them as well. To prevent getting caught in any traps, quickly assess the user to make sure they are genuine. Requesting more photos, having a video call or arranging a meetup can help you verify if they are real. Immediately block any user that you are unsure of and notify the dating site so that they cannot scam anyone else. Also, you can read a guide on 7 Tips to Online Dating Messages.
Conclusion
Unfortunately, it is an unfortunate fact that online scammers exist on dating platforms. Despite this, it is still a great way to find the perfect companion. To protect yourself from these criminals, make sure to use trusted Top dating sites that have the means to detect scammers. Educating yourself on how to identify online dating scammers and report suspicious profiles is also a wise move. Lastly, be vigilant when disclosing personal details and never ever give out money.